---
Johnsburg, Bakers Mill
(From Jct. NY 28 in Wevertown to Jct. NY 30 in Wells)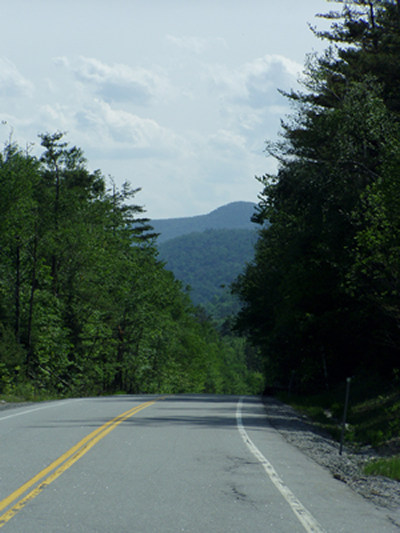 NY 8 Looking South from Bakers Mill
This is a great stretch of state highway that connects Wevertown to NY Route 30 between Wells and Speculator. It is very sparsely settled, with just the two small working hamlets of Johnsburg and Bakers Mill with 45 mph zones. For northbound drivers, it connects NY 30 to Wevertown, Gore Mountain Ski Center & North Creek. Otherwise, it's a quick drive, except for lots of frost heaves in places and one big hill south of Bakers Mill. There is no road services or stores except for a couple of bars, so stock up in Warrensburg or North Creek first. The road goes by Eleventh Mountain, Silver Lake & Siamese Ponds Wilderness Area and follows the East Branch of the Sacandaga River on the southern stretch, with plenty of pull overs for fishermen. The road is criss-crossed by a number of hiking, skiing, and snowmobiling trails too, including accesss to the Siamese Ponds Wilderness and

11th or Eleventh Mountain

Bakers Falls in Winter
About 2.5 miles north of the junction of NY 30, you can access Bakers Falls just south of Griffin. There is a little dirt road, that is what's left of the old road that went over both branches of the Sacandaga River to NY 30. Now it is just a hiking, snowmobile trail past the gates. But where the road crosses the East Branch, there is a cool little bridge and some killer falls. If you hike down the west side of the river from the campsite, parking area, there are some good swimming holes. But be wary in high water levels if you want to cool off.
Gore Mountain Region, Town of Johnsburg Chamber of Commerce
Participating Establishments
Johnsburg 12843, Bakers Mill 12811 Zip Code
518 Area Code

---

Alicia C. Miller Adirondack Real Estate, Inc. Deborah L. Abbot-Forgione, Corporate Broker
1330 Main Street, NY 30, P.O. Box 328, Wells N.Y. 12190
Serving Southern Hamilton County
A Name You Can Trust since 1982 by Representing Southern Hamilton counties finest properties. Let us represent yours. We Cover Benson,Hope,Wells,Speculator, Lake Pleasant, Piseco, Morehouse and Indian Lake. Piseco & Oxbow Lake
PH: 518-924-4255 FAX: 518-924-4212

---

Mountain Market of Speculator Village Gas Station with diesel, Brick Oven Pizza, Deli, Beer, Wine Coolers, Groceries, Propane Exchange Tanks
NY Routes 30 & 8 Speculator Village Center
Open Year Round. We are the only gas station on Route 8 between Chestertown + Poland, over 90 miles! Hot breakfasts, lunches.
We have 91 octane ethanol free gasoline and diesel fuel too
518-548-4820 Email Us

---

Speculator Department Store "The 2nd Most Unique Store in the Adiriondacks"
ON NY 8 west of jct. NY 30, in village center
Speculator Village Center
Open daily 9AM - 5PM, accessible by snowmobile.
Pendleton®, Carrhart®, Woolrich®, Columbia® sportswear, Helly Hansen® and other fine clothes
gifts, art, some camping supplies
Best selection of Adirondack books
Phone: 518-548-6123 | Email Us